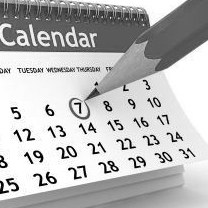 2013 Ijtema Report
Report of the 32nd National Ijtima' and 21st Majlis Shūra (2013)
Rafiuddin Malik, Qa'id Isha'at (Publication)
The 32nd National Ijtima' of Majlis Anṣarullah, USA was held at Baitur-Raḥman Mosque, Silver Spring, MD from Friday, October 4 to Sunday, 6, 2013. As is customary, the 21st Majlis Shūra of Majlis Anṣarullah, USA was also held during this time. By the Grace of Almighty Allah, both the Ijtima' and Majlis Shūra were very successful, with a combined total attendance of more than 750 Anṣar from all over the USA which is the highest ever in any Anṣar National Ijtima', Alḥamdulillah. All the Ijtima' and Shūra sessions were held in the men's Prayer hall while the meals were served in a marquee erected at the outside grounds of the mosque; the breakfast was served in Anṣarullah Hall. The men's Prayer hall was used for Prayers and Women's Prayer hall was used for accommodation. The indoor sports activities took place in the basement area of the Mosque while the outdoor sports activities were held at the outside grounds of the Mosque.
Among the salient features of the Ijtima' and Majlis Shūra were: opening and closing sessions; educational and sports competitions; Talqin-i-'Amal sessions related to Tabligh, Tarbiyat, and Ta'limul-Qur'an; an interactive workshop on health; and presentations on Anṣar's role in Tarbiyat and matrimonial affairs. Following are some of the highlights of the various Ijtima' events.
Opening Session
The opening session of the Ijtima' started at 3:30 PM with the recitation of the Holy Qur'an by Hafiẓ Mubarak Kukoyi of Chicago East Majlis. Ṣadr Majlis Anṣarullah, Dr. Wajeeh Bajwa, led Anṣar in recitation of the Anṣar pledge. Halim Chaudhry of Baltimore Majlis recited an Urdu poem of the Promised Messiah (may peace be on him). In his welcome address, Ṣadr Majlis welcomed attendees to the 32nd National Ijtima'. He then read the message which Ḥaḍrat Khalifatul Masiḥ V (may Allah be his helper) had specially sent for Anṣar Ijtima'. In his message, which Ṣadr Majlis read word by word, Ḥuzoor reminded all Anṣar about their responsibilities which include remaining steadfast in adversity, honoring their covenants, and being loyal to the cause of Allah. Huzoor also reminded Anṣar to remember Allah and stay at the path of righteousness even after the Ijtima'. In his message, Huzoor emphasized understanding and following the great example of the Holy Prophet (may peace and blessings of Allah be on him). Finally, Huzoor instructed all Anṣar to recite the Holy Qur'an daily, be punctual in the five daily Prayers, and spread the message of Islam using all our abilities. After reading Huzoor's message, Ṣadr Majlis concluded his welcome address by requesting all Anṣar to pay special attention to their responsibilities as laid down by Khalifatul Masiḥ and also to ponder over 10 conditions of Bai'at. Ṣadr Majlis then invited respected Amir Jama'at, USA, Dr. Ahsanullah Zafar, for the inaugural address.
In his opening address, respected Amir started with referring back to Huzoor's message which Ṣadr Majlis had just read. Respected Amir reiterated that message and also mentioned about Ṣalat and Du'a. He emphasized that Anṣar should not only be punctual in five daily Prayers but also should be more regular in Nawafil, especially Tahajjud Prayers. Respected Amir also shared with all Anṣar that Huzoor has instructed that the USA Jama'at should start thinking about establishing a Jami'a in the US. Respected Amir requested all Anṣar to pray for this consideration and to also share any ideas about where the Jami'a should be established. He requested that if there was a suitable and cost effective building available for sale, it should be brought to his attention. At the end of his address, respected Amir led members in silent prayers. Shura Proceedings
Majlis Shura proceedings took place on Friday immediately after the opening session and then continued on Saturday evening. In the Friday session, last year's approved proposals and implementation reports were presented by Qa'id Umumi, Maqbool Tahir. New proposals that were not selected for discussion and those selected for discussion were presented to the Shura body. Three subcommittees were formed for deliberations on proposals that were accepted for discussion. The subcommittees were Tabligh, Finance, and Tarbiyat. Ṣadr Majlis also appointed a Chairman and a Secretary for each of the subcommittees. The subcommittees met and deliberated on their respective proposals until late on Friday night; all committees prepared comprehensive reports with recommendations. The second session of Shura was held on Saturday at 8:00 PM. Elections for Ṣadr Majlis and Na'ib Ṣadr Ṣaf Dom were held. Na'ib Amir, Imam Naseem Mahdi, conducted the election proceedings. The final session of Shura started at 9:00 PM. The chairman of each of the aforementioned subcommittees presented their reports. The recommendations were deliberated by the Shura body. The recommendations were submitted to Ḥazrat Khalifatul Masiḥ V for approval. The final Shura session ended at 10:30 PM. Educational Competitions Many educational competitions including recitation of the Holy Qur'an, Darsul-Hadith, impromptu speech, general knowledge, and observation and recall took place during the Ijtima'. If there is one thing to be said about Anṣar Ijtima', it is that the Anṣar Education competition starts on time! Promptly at 9:00 AM on a crisp but sunny October morning, the session got underway with the Recitation of the Holy Qur'an competition. The Recitation of the Holy Qur'an competition this year was based on the recitation of verse 36 of Surah Al-Nur (Chapter 24). Next up was the nerve wracking Impromptu Speech competition; the competitors were randomly provided one out of the possible eighteen topics. A couple of the competitors were brave enough to start by saying that it was stressful standing at the podium. A Naṣir was honest to say that if they had paid more attention to the Anṣar syllabus material then the competition would have been much easier! Studying the syllabus was just one lesson for the audience to learn from the competitors. We were reminded of our promises about the Conditions of Bai'at. A Naṣir made the very touching observation that he felt saddened that we needed to be reminded by our beloved Huzoor's to listen to his Friday sermons. Another Naṣir reminded us that our prayers to Allah during good times provides us access to an "ATM of prayers" in bad times. Next came the Darsul-Ḥadith competition with the competitors reciting and providing commentary on the Ḥadith "Prophet of Allah (may peace and blessings of Allah be on him) stated that a person who desires that Allah grants acceptance to his prayers at the time of difficulties and distresses should pray abundantly at the time of ease." For the Religious and General Knowledge competition, the organizers continued with an web-based system accessed by a laptop or smart phone. The website is specially designed for multiple teams to receive the questions and in a timed session answer their response in a multiple choice format. There was a wide range of interesting religious and general knowledge questions. Each team was comprised of four participants—larger regions could have multiple four-person teams—however, this meant that there were more teams competing than in past years and unfortunately we had a long delay as it seemed we had overwhelmed the website! Ultimately we managed to get started but not without some controversy as some of the teams could not access all the questions. While these teams were disappointed, everyone participated in good spirit, and when all was said and done there was a tie between two teams: the North East Region and the Great Lakes region. This was settled through a set of three additional tie-breaker questions.
Sports Competitions
Many sports competitions including Darts, Horse Shoe Toss, Basketball Hoops, 100 Meter Dash, Table Tennis, Tug of War, and Volleyball were held during the Ijtima'. The weather remained pleasant and sunny on all three days of the Ijtima' which allowed successful organization of the outdoor events. The contestants enthusiastically participated in the various sports competitions and vied with fellow Anṣar brothers in a most congenial atmosphere. Cheering crowds provided much encouragement to individual and team participants. Sports Competitions commenced on Saturday morning at 6:45 AM. Competitions continued after the afternoon session and were completed on Sunday morning. Each sports session was started with silent prayers. During the afternoon sports session on Saturday, in addition to providing cold water to keep the contestants hydrated, Mango milk shake and fruit was also made available aplenty as refreshments for contestants and spectators.
Talqin-i-'Amal Session on Ta'limul Qur'an
A Talqin Amal session on Ta'limul Qur'an was held in the Sunday morning session. The objective of the session was to motivate and improve Anṣar in the study of the Holy Qur'an and urge them to dedicate time to teach the Holy Qur'an or enroll themselves in online classes as student to learn correct recitation, translation, and commentary. To facilitate the enrollment of Majlis Anṣarullah, USA – Report of the 32nd National Ijtima' and 21st Majlis Shura (2013) Page 4 of 11 students and teachers, a table was set up outside with forms and applications; members were reminded to enroll for classes via announcements 2-3 times a day. During the session, the importance of learning and studying the Holy Qur'an was stressed with references from the writings of the Promised Messiah (may peace be on him) and Huzoor's Friday Sermon. A few testimonies by Anṣar who attended the online Ta'limul Qur'an class for correct recitation and benefited from it were presented. At the end of the session, Anṣar were urged to pray to Allah to enlighten ourselves and enroll in Ta'limul Qur'an classes as student or teacher.
Talqin-i-'Amal Session on Tarbiyat
A interactive Talqin Amal session on Tarbiyat (Cell Phones & Social Media and our children– "…Curse of the Internet") was held in the Sunday morning session. The session was hosted by Muhammed Owus, Qa'id Tarbiyat and Imran Hayee, Na'ib Ṣadr Ṣaf Dom. First, Muhammed Owus introduced the topic and mentioned that Huzoor has instructed Majlis Anṣarullah to take on this issue and make programs such that our future generations can be saved from the harms of the Internet. Following that instruction, two interactive workshops were held in regional Ijtima'at of Gulf States and Midwest regions. After the introduction, Imran Hayee presented five scenarios that highlighted cell phone and email issues that children from ages 8 through 14 might raise with their parents and solicited the audience's response. The session was on the whole very interesting and informative. It is our hope and prayer that the session will be a source of blessing for the audience. Insha'allah.
Talqin-i-'Amal Session on Tabligh
A Tabligh Talqin-i-'Amal session was held on Sunday at 10:20 AM. Qa'id Tabligh, Syed Sajid Ahmad, was out of country, the session was conducted by Muhammad Dawood Munir, National Auditor of Majlis Anṣarullah, USA, along with Imam Shamshad A. Nasir. It was emphasized that the objective of the session was to motivate Anṣar towards Tabligh activities specifically by presenting some of the activities that are being carried out in various Majalis and to learn from their experiences and then implement those methods of Tabligh that these Majalis have successfully employed. Representatives from three Majalis—Dallas, LA Inland, and Silver Spring—shared their experiences in Tabligh and what worked for them in this arena. Imam Shamshad A. Nasir stressed that we should not be making excuses to not do Tabligh. He said that there is no magic to doing Tabligh; the only magic is Bismillah. He invited Anṣar to begin Tabligh with the name of Allah. He also said that the language is not the problem. He gave an example of an Aḥmadi who did not know Dutch but that did not prevent him from doing Tabligh in a foreign country. He also pointed out that we were lacking in prayers. He emphasized the importance of one-on-one Tabligh. The session ended after a Q&A session in which Anṣar offered comments and shared their experiences in Tabligh. Imam Shamshad A. Nasir offered answers to many questions from Anṣar.
Health Workshop
A presentation and panel discussion on "Lifestyle and Nutrition" was moderated by Qa'id Dhahanat wa Ṣihat-i-Jismani (Health), Dr. Tanvir Ahmed. A penal consisted of Dr. Mamoon Bukhari and Dr. Mansoor Qureshi offered their insights on the topic as it pertains to Anṣar. Information presented was based on science as well as the teachings of Islam. Examples with respect to the conduct and advice of the Holy Prophet (may peace and blessings of Allah be on him), the Promised Messiah (may peace be on him), and Khulafa'-i-Aḥmadiyyat were given. After the presentation and panel discussion, about an hour was spent on Q&A. Anṣar asked numerous questions on various aspects of lifestyle and nutrition and some offered their experiences and insights.
First Aid Clinic
A clinic was staffed round-the-clock by these physicians: Dr. Tanvir Ahmed, Dr. Mamoon Bokhari, Dr. Rafi Malik, and Dr. Rizwan Qadir. Dr. Ashraf Meelu graciously allowed the team to use his facility for the clinic. Medications, first aid, and referral to hospitals were provided to Anṣar. About 100 flu shots were administered free-of-charge.
Presentation – Anṣar as Role Models for Future Generations
In the Saturday afternoon session, Nasir Mahmood Malik, National Secretary Ta'lim, gave a presentation on the topic of "How can Anṣar be seen as role models for the future generation?" He started his presentation with verses 8 and 9 of Chapter 98 (Al-Bayyinah) of the Holy Qur'an that relate to those people who do good deeds and always seek pleasure of Allah, the Almighty. He explained that Anṣar's behavior and life style should be such that it stands out for our youth and that we should follow an ideal path of acting upon ten conditions of Bai'at laid out by the Promised Messiah (may peace be on him). He stated that as role models, we should openly recognize our flaws and try to improve upon those in our lives. He then opened the floor for the audience to share their memories and observations from their youth in regards to the dealing of Anṣar of that time. A number of Anṣar members related their experiences and memories from their childhood and youth as to how they saw Anṣar of their time act as role models. The presenter also reminded that Anṣar should be consistent in their private and public lives. He emphasized that Anṣar should realize that the context for our younger generations has changed and we all need to understand the environment around us. Anṣar need to understand what kind of legacy we should be leaving behind. Presenter also exhorted the attendees that Anṣar needed to return back to the basics including listening to Huzoor's Friday sermons and then discussing it with our children and families, studying books of the Promised Messiah (may peace be on him), visiting mosques more often with our children, and striving for continuous improvement in our lives.
Presentation – The Role of Anṣar in Matrimonial Affairs of their Children
In the Sunday morning session, Dr. Wajeeh Bajwa, Ṣadr Majlis Anṣarullah, USA gave a presentation on the topic of "Role of Anṣar in Matrimonial Affairs of their Children." Ṣadr Majlis started his presentation with Arabic sermon which is delivered on the occasion of the solemnization of a Muslim marriage. He then expounded on excerpts taken from Ata Ullah Kaleem's article "Marriage in Islam" published in Review of Religions, November 1992. Ṣadr Majlis engaged Anṣar audience in an interactive session by presenting multiple scenarios from the above-mentioned article focusing on the noble relationship that should exist between a husband and wife following the beautiful teachings of Islam. Anṣar actively participated in the interactive discussion and provided their feedback by a show of hands. At the end of the session, Ṣadr Majlis gave brief introduction of the role of Rishta Nata department and encouraged Anṣar to use such services in the matrimonial affairs of their children.
Concluding Session
The concluding session of the Ijtima' started on Sunday at 11:30 AM and was presided by respected Amir Jama'at USA, Dr. Ahsanullah Zafar. The session started with the recitation of the Holy Qur'an by Abdul Rauf Rafique of Phoenix Majlis followed by the recitation of an Urdu poem of the Promised Messiah (may peace be on him) by Pervaiz Khan of Detroit Majlis. Prizes were distributed among the performing Majalis and Anṣar. Ṣadr Majlis Anṣarullah, USA, Dr. Wajeeh Bajwa, presented a comprehensive annual report that outlined accomplishments and salient activities of the Majlis throughout the year and the challenges ahead. Ṣadr Majlis explained the purpose, workings, and the results of various activities. The report showed that most of the yearly goals and objectives were achieved for each department. Ṣadr Majlis covered the activities of all the departments and made the audience aware of the important activities being carried out in each one of them. He then presented the names of Anṣar who passed away during the year. He thanked all the volunteers who made the Ijtima' a success. Ṣadr Majlis reported that the official registration for the Ijtima' was 752 which is the highest ever in any Anṣar National Ijtima', Alḥamdulillah. In his concluding address, the respected Amir Jama'at, USA, Dr. Ahsanullah Zafar, started out with the subject of sacrifice by stating that Anṣar has sacrificed their time to gather here for a blessed purpose and have spent three days with each other building brotherhood and unity. He said that after going back from the Ijtima', Anṣar should continue to reflect on the blessings of this Ijtima' and the spirit of brotherhood which they have developed and unity which they have shown. After his concluding address, respected Amir requested Ṣadr Majlis to lead Anṣar in reciting Anṣar pledge. The session concluded with Anṣar pledge led by Ṣadr Majlis and silent prayers led by the respected Amir Jama'at, USA.
Acknowledgement:
The following members contributed to this report:
Imran Hayee, Imran Mudassar, Malik Mubasher Ahmad Satkohi, Maqbool Ahmad Tahir, Mohammed Owusu, Musawwir Momen, Syed Fazal Ahmed, and Syed Tanvir Ahmad.
Prizes and Awards:
At this point, it will not be fair if all of those who participated in the various competitions held at the Ijtima', are not recognized. Although, all of them deserve recognition and prayers, a list of ranked positions is given below.
Educational Competitions Awards:
Recitation/Memorization of the Holy Qur'an
1st: Abdul Rauf Rafique (Phoenix)
2nd: Mubashir Majoka (Rochester)
3rd: Naeemullah (Philadelphia)
Darsul-Ḥadith
1st: Irfan Alladin (Long Island)
2nd: Faheem Qureshi (Baltimore)
3rd: Mansoor Qureshi (Detroit)
Impromptu Speech
1st: Irfan Alladin (Long Island)
2nd: Mansoor Qureshi (Great Lakes)
3rd: Faheem Qureshi (Baltimore)
Religious and General Knowledge
1st: Great Lakes Region (Mansoor Qureshi, Perwaiz Khan, Muzaffar Mahmood, Khalid Ahmad)
2nd: Northeast Region (Nasir Khan, Mubashir Majoka, Tahir Khokhar, Naveed Malik)
3rd: Virginia Region (Zamir Mirza, Navid Aslam, Qamar Ijaz, Gulzar Ahmad)
3rd: Gulf States Region (Mubashir Ahmad, Naseer Tahir, Mahfooz Sheikh, Tariq Malik)
Essay Writing Competition
1st: Suhail Kausar (Dallas)
2nd: Maqsood Ahmad (Milwaukee)
3rd: Nooruddin Anwar Noori (Willingboro)
Sulṭanul-Qalam Awards:
1st: Faheem Younus Qureshi (Baltimore)
2nd: Imran Hayee (Minnesota)
Sports Competitions Awards:
100 Meters Sprint Competition – Safe Awwal
1st: Imtiyaz Rajayki (Philadelphia)
2nd: Khalid Khan (Laurel)
3rd: Qadeer Malik (LA East)
100 Meters Sprint Competition – Safe Dom
1st: Baba Trawalley (Research Triangle)
2nd: Amir Malik (Houston South)
3rd: Alfa Bah Ahmadu (Zion)
Horse Shoe Toss
1st: Iqbal Ahmad (New York)
2nd: Rasheed Ahmad (New York)
3rd: Jawad Ahmad (Oshkosh)
Darts
1st: Jawad Ahmad (Oshkosh)
2nd: Khalid Ahmad (Detroit)
3rd: Ahmad Dard (Research Triangle)
Basketball Hoops
1st: Siddique Rahim (New York)
2nd: Masood Ashraf (Fitchburg)
3rd: Muzaffar Chaudhry (Fitchburg)
Tug of War
1st: Northeast Region (Captain Laeeq Khan)
2nd: Detroit (Captain Maqbool Tahir)
Table Tennis Singles
1st: Iqbal Rana (LA East)
2nd: Anwar Rafiq (Dallas)
3rd: Naseem khan (Detroit)
Volleyball
1st: Great Lakes (Captain: Abdul Ghani)
2nd: Central East (Captain: Waqar Malik)
3rd: Virginia (Captain: Muhammad Mahmood)
Finance Awards:
Meritorious Service in Finance
Abdul Latif Mahmud (Cypress-Houston)
Iftikhar Ahmad Khan (North Virginia)
Ramazan Ul Haq Jattala (LA East)
Mazhar ul Haque (LA Inland)
Zafar Tahir Ahmad (Kentucky)
Saad Ahmad Mian (Oshkosh)
Saeed Ahmad (Willingboro)
Mubashir Ahmad Mirza (Central Jersey)
Service to Local Majlis in Finance
Central East:
Naseem Mahmood Bajwa (Lehigh Valley)
Central West:
Mirza Muhammad Yunus (Bay Point)
Muhammed Idrees Munir (Silicon Valley)
Great Lakes:
Ahsan Shemaz Syed (Columbus)
Zia Nasim Zaidi Syed (Dayton)
Muhammad Shahid Mahmood (Detroit)
Gulf States:
Malik Mohammad Altaf (Austin)
Asim Shahzad (Houston South)
Headquarter:
M Ikram Chaudhary (Silver Spring)
Midwest:
Tanveer Ashraf (Minnesota)
Arif Qureshi (Zion)
New York:
Irfanullah Sikder (New York)
North East:
Muzaffar Ahmad (Albany)
Rashid Ahmad (Boston)
Muzaffar Ahmad Chaudhry (Fitchburg)
South East:
Arif Mahmood Ahmed (Georgia-Carolina)
South West:
Munir Ahmad Malik (Phoenix)
Moyenuddin A Sirajee (San Diego)
Administrative Awards:
First to register Online for the Ijtima'
Sadaqat Mahmood (Milwaukee)
Service to Local Majlis Award
Mubarik Ahmed Khan (Detroit)
Mohammad (Jonathan) Abdul Ghaffar (LA East)
Best Da'i Ilallah Award
Mahmood Ahmad Mirza (Columbus)
Khadim Hussain Shah (Bay Point)
Meritorious Service Awards:
Munawar A. Saqib (Qa'id Mal)
Maqbool A. Tahir (Qa'id 'Umumi)
Life Long Service Award
Nasir Mahmood Malik (Ṣadr Majlis Anṣarullah, USA – 2000-2005)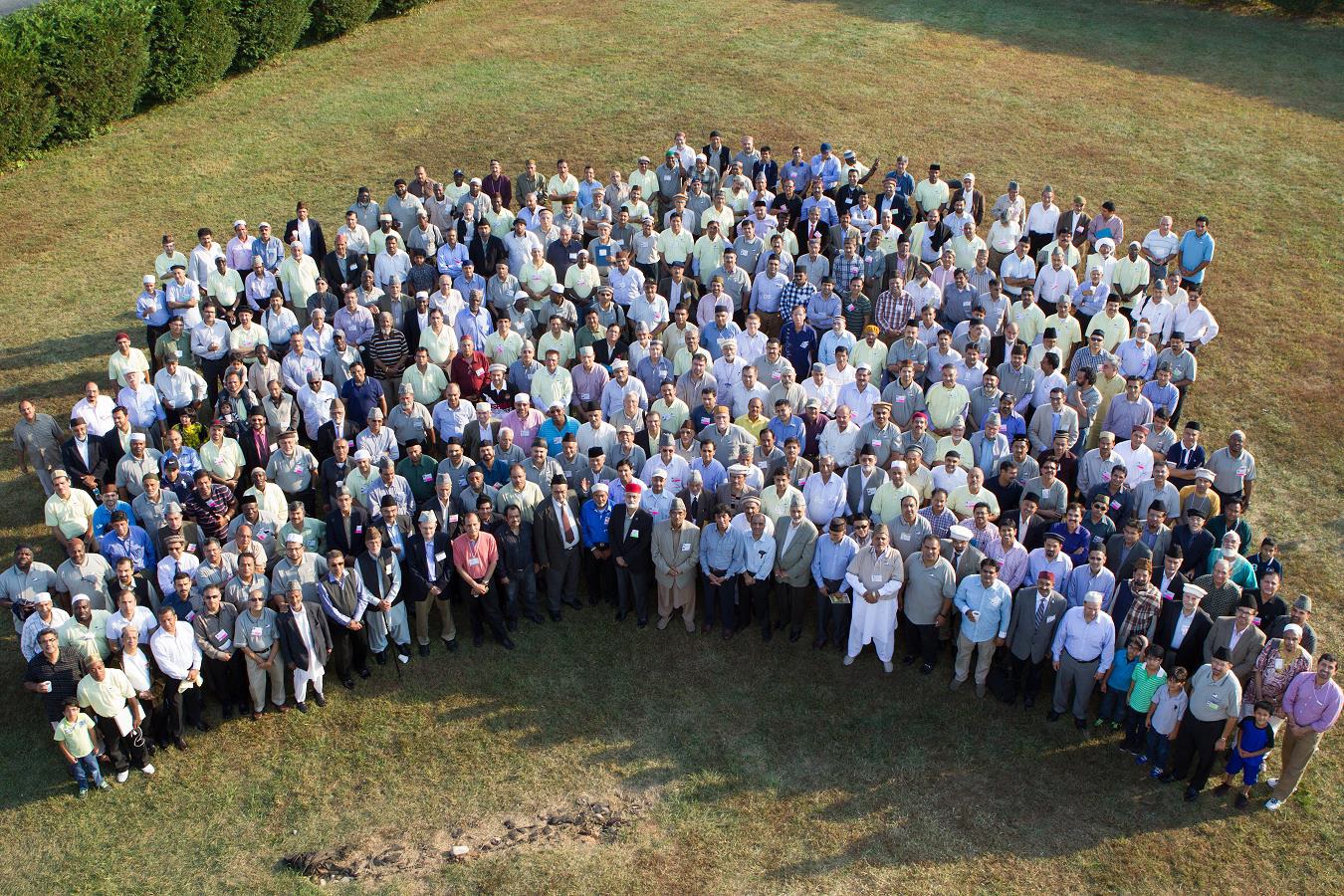 Participants of 32nd National Ijtima' 2013 of Majlis Ansarullah, USA at Baitur-Raḥman Mosque, Silver Spring, MD on Saturday, October 5, 2013
g