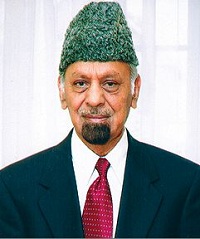 Dr. Karimullah Zirvi
Sadr Majlis Ansarullah, USA
(1993-1999)
Dr. Karimullah Zirvi was born on May 20, 1940 in Lahore, Pakistan. He completed his undergraduate education in 1959 at Ta'limul Islam College in Rabwah, Pakistan. He obtained his B.Ed. in 1961 at Central Training College in Lahore. He taught at Ta'limul Islam High School in Ghatialian, Pakistan for one year. In 1963, he completed his M.Sc. degree in Chemistry from Karachi University and secured the second position in the University (Tarikh-e-Ahmadiyyat, Vol. 22, p 333).
In 1964, Dr. Zirvi was awarded Fulbright-Hays Award and a research grant from the University of Louisville, Louisville, Kentucky for Post-Graduate studies. In 1968, he completed his Ph.D. in Pharmacology in the laboratory of Dr. Charles H. Jarboe. His thesis was entitled, "Synthesis and Pharmacology of Centrally Active Imides and Amides of Certain Cyclobutanecarboxylic Acids."
After completing his post-doctoral work at the University of Louisville, he became a Senior Research Officer at Pakistan Council of Scientific & Industrial Research (PCSIR) Labs in Peshawar, Pakistan (1969-1972). In 1972, he joined Pahlavi University in Shiraz, Iran as an Associate Professor in the Department of Pharmacology. During this time, he was awarded an International Cancer Research Technology Transfer (ICRETT) Award from Deutsches Krebsforschungszentrum, Heidelberg, Germany.
In 1974, by the grace of God, he performed Hajj. In 1978, Dr. Zirvi and his family immigrated to the United States of America where he took up a position as a visiting scientist at the University of Louisville. He was a research scientist at the University of California San Diego, La Jolla, California from 1979 to 1980. Then he moved to Vanderbilt University in Nashville, Tennessee where he worked as a research scientist in the Department of Chemistry. In 1982, Dr. Zirvi joined the faculty at the University of Medicine and Dentistry of New Jersey (UMDNJ). There he taught and did research in oncology until he retired in 1993 as an Associate Professor.
During his research career he was awarded an NIH Research Grant, VA Research Grant, and a New Jersey State Cancer Research Grant. He is the author of over 66 peer-reviewed publications and holds a patent. Dr. Zirvi's biographical sketch is also published in Asia/Pacific Who's Who (Vol. VII, p. 656) and Asian/American Who's Who (Vol. V).
Dr. Zirvi is an active member of USA Jama'at. He has held many positions over the years which include Sadr Majlis Ansarullah, USA from 1993 to 1999. As Sadr Ansarullah, he published several special issues of Al-Nahl magazine which included a special tribute to the life of Professor Dr. Abdus Salam, Nobel Laureate of Physics.
Following are some of the significant achievements during his tenure as Sadr Majlis:
Majlis Shura of Majlis Ansarullah, USA was started.
'Alam-i-In'ami award for the best Majlis was started.
Ta'lim Test program was started.
The Al-Nahl magazine was started.
Ansar Newsletter was started.
Approval for the Ansarullah Hall was obtained from Hazrat Khalifatul Masih IV (may Allah shower His mercy on him).
In the USA, Dr. Zirvi served as the National Ta'lim Secretary from 1998 to 2007. He served as General Secretary (1983 to 2000) and Vice President (2000-present) of the North Jersey Jama'at. In addition, he has been a past President of the Ahmadiyya Muslim Scientists Association as well as the General Secretary of the Ahmadiyya Muslim Medical Association (AMMA) from 1982 to 1996. In 1993, he, along with Dr. Imtiaz Chaudhary (then President of the AMMA), visited Ahmadiyya Hospitals in Sierra Leone, Liberia, and the Gambia and delivered surgical instruments and medicines which were collected from Ahmadi doctors in the USA. In 2010 he was appointed by Hazrat Khalifatul Masih V (may Allah be his helper) as a member of the Shahid Viva Examination Board of Jami'a Ahmadiyya Canada. He also served as Editor of the Ahmadiyya Gazette, USA and An-Noor from May 2004 to November 2014. He is one of the Panj Hazari (5,000) Tehrik-e-Jadid Scheme participants.
Dr. Karimullah Zirvi currently lives in Fair Lawn, New Jersey with his wife, Amatul Latif Zirvi. She is the daughter of the late Malik Saifur Rahman Sahib, former Mufti of the Ahmadiyya Jama'at, and the late Amatul Rashid Shaukat Sahiba, former Editor of the Lajna magazine Misbah, Rabwah, Pakistan.
Dr. Zirvi has three sons (Nasir Zirvi B.S., Electrical Engineering, Dr. Monib Zirvi, Dr. Khalid Zirvi) and a daughter, Sumra Zirvi, and eleven grandchildren.
Publications by Dr. Zirvi include:
Words of Wisdom
Welcome to Ahmadiyyat, the True Islam (Fourth editions published in 2010)
Ta'limul Qur'an
Holy Prophet of Islam, Hazrat Muhammad Mustafa
Hazrat Malik Saifur Rahman
Invocations of the Holy Prophet, Hazrat Muhammad Mustafa (Second edition published in 2014)