Ansar Housing Complex Groundbreaking
The Ansar Housing Complex is the culmination of desires of Ahmadis in the United States to have a place to live together as a community. The need for such a community had continued to manifest in various forums and meetings of Majlis Ansarullah, USA over the last many years. On April 24, 2017, the groundbreaking was held for the Ansar Housing Project in Joppa, Maryland. It was a direct outcome of the Majlis Ansarullah Shura proposal from 2014 "to acquire a place that could be used to provide service to Ansar members." The planned housing project will have 49 villas along with a mosque/community center. It is also envisioned to best utilize the possibilities offered by the serene location by having park areas, nature trails, boating pier and other amenities for our members.
The project formally got underway with the groundbreaking. The event was attended by over 50 people including men and women who had come from as far away as Florida and New York. It was extremely heartening to have the presence of Respected former Sadran of Majlis Ansarullah, USA that included Na'ib Ameer respected Masoud Malik, respected Nasir Malik, respected Dr. Wajeeh Bajwa along with National General Secretary respected Mukhtar Malhi and National Property Secretary respected Rafiq Sayed while respected Imam Irshad Malhi was representing Na'ib Amir and Missionary in charge respected Azhar Haneef. Sadr Majlis Ansarullah, USA, respected Faheem Younus Qureshi was present to personally welcome all the guests. It was also an occasion for the guests and prospective buyers to meet with the builder and his representatives who would be working on the project for the next many months.
It goes without saying that all Jama'at gatherings are blessed with Allah's grace and mercy, every step of the way. Imam Irshad Malhi led the event participants in silent prayers on the occasion and it was followed by Asr Prayer that was offered on site. Members of Baltimore Majlis went out of their way to making the administrative arrangements for the event including providing of snacks and hot drink on a cold afternoon.
Allah the Almighty extended His special mercy and blessings to this event. It had been raining for an extended period all around, including Virginia, Baitur Rahman Mosque, Baltimore, and other places around the event venue. Jama'at members had called to find out if the groundbreaking event would be held as scheduled or postponed due to the rain. It was sheer Allah's grace that the event did not experience any rain disruption. The proposed site of the Ansar Housing Complex was totally dry which allowed us to offer Asr Prayer on the grassy area. It needs to be remembered that the Ansar Housing Project has the blessings of Hazrat Khalifatul-Masih V (may Allah be his helper). Prayers are requested for the project's success and the mission of this venture.
If you have any questions please contact the following:
Khurram Bashir
Chairman Property Committee
khurram.bashir@ahmadiyya.us
240-215-7567
Suhail Kausar
Na'ib Sadr, Majlis Ansarullah, USA
president.dal@ahmadiyya.us
609-217-3202
Groundbreaking at Ansar Housing Complex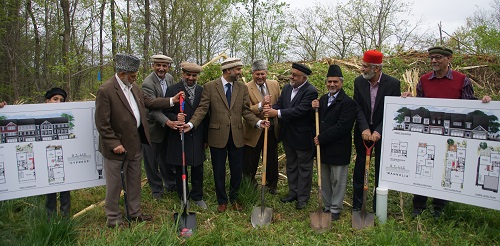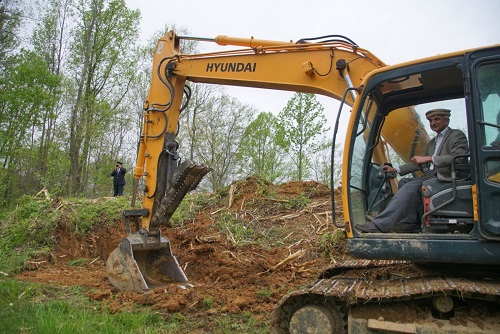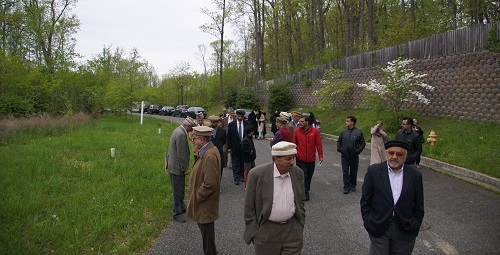 More pictures...