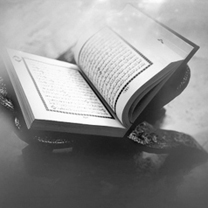 Ta'lim-ul-Qur'an


And, indeed, We have made the Qur'an easy to remember. But is there anyone who will take heed? (The Holy Qur'an, Ch: 54, Verse: 41)



The best among you is the one who learnsthe Holy Qur'an and teaches it to others (Buhkari)
Primary Department's Goal 2017
The primary goal of the Department of Ta'lim ul Quran is to make 100% of the Ansars at each Majlis in USA to start recitation of Holy Quran Daily and develop great love and devotion for this Holy Book. It is desired that Ansar by reading the translation and its commentary will enhance their knowledge and put into practice the injunctions of Holy Quran in their daily to become the role model for their families. All Ansars will also be encouraged to memorize some pre assigned short verses of Holy Quran each quarter which will also help to sharpen and enhance their memory.
Recommended Additional Goals
1. Completing the recitation of Holy Quran with translation in Ramdhan.
2. Memorization of Sure AlNaba chapter 78 in the first half of 2017.
3. Memorization of 10 Quranic prayers as shown in the link in the second half of of 2017.
Important Links