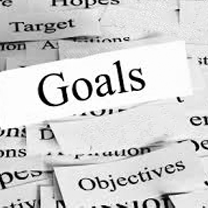 Goals and Objectives
Key Goals and Objectives – 2017
NO
DEPT
GOALS
1
Qa'id Umumi
Increase Ansār attendance in general monthly meetings to 1250.
2
Qa'id Publication
Publish 26 bi-weekly e-newsletters, 6 bi-monthly print newsletters, and 1 annual Al-Nahl.
3
Qa'id Tajnid
Verify contact information of 2600 members and update changes in mailing address, phone, email etc.
4
Qā'id Māl
Increase Ansar participation to 2550 2. Each Zaeem contact each member in his majlis.
5
Qā'id Tahrīk Jadīd
Increase Ansar participation to 2550 in Tahrik-E-Jadid.
6
Qā'id Waqf Jadīd
Increase Ansar participation to 2550 in Waqf-E-Jadid.
7
Qa'id Tarbiyat
1. 3000 Ansar offering Congregational Salat on a regular basis at home, salat centers and/or Mosque.
2. 350 new Ansar to enter in Nizam-e-Wasiyat
8
Qa'id Ta'lim
1. Participation of 1438 Ansar in Talim tests.
2. Completion of 1st level (basic) Talim test by 1313 Ansar, out of which 313 achieving 2nd level (advanced) Talim test..
9
Qa'id Ta'limul Qar'an
100% of Ansar reciting Holy Quran Daily.
10
Qa'id Training of New Members
10 Nau Mubā'i'īn attend either UK Jalsa Salana or National Majlis Ansarullah Ijtema.
11
Qa'id Tabligh
1. Bring 100 guests to USA Jalsa, West Coast Jalsa or Ansar National Ijtima.
2. Register 313 Active Daeens from Majlis Ansarullah
12
Qā'id Social Services
1000 Visits to sick and elderly Members.
13
Qa'id Health
At least 1000 Asnar Exercise Regularly, Adopt Healthy Lifestyle. Continue Health Help Line and Material for Meeting. Contribute in Newsletter.
14
Auditor
Audit at least 50 majalis.
15
Nazimin
Visit every Majlis once a year .